Top 10 VPN Services of 2023 for Ultimate Online Security
Disclosure: Wizards of Technology might earn a small commission when you click on links through this site and make purchases. The earning of this affiliate commission in no way affects how services are reviewed, ranked or rated.
Are you looking for the best Virtual Private Network (VPN) service to securely browse online and protect yourself from potential threats? The VPN services that are available in 2023 have more advanced features than ever before, designed specifically for ultimate security.
In this article, we will explore the top 10 VPN services of 2023 offering comprehensive cyber protection along with a comparison between their key features, reviews and pricing plans.
Find out today what the right solution for your digital life! Dive into this article to become an internet privacy expert and benefit from secure browsing without sacrificing speed or convenience.
Top 10 VPN Services of 2023
This section provides an overview of the top 10 recommended VPN services of 2023, including NordVPN, ProtonVPN, SurfsharkVPN and TunnelBear VPN.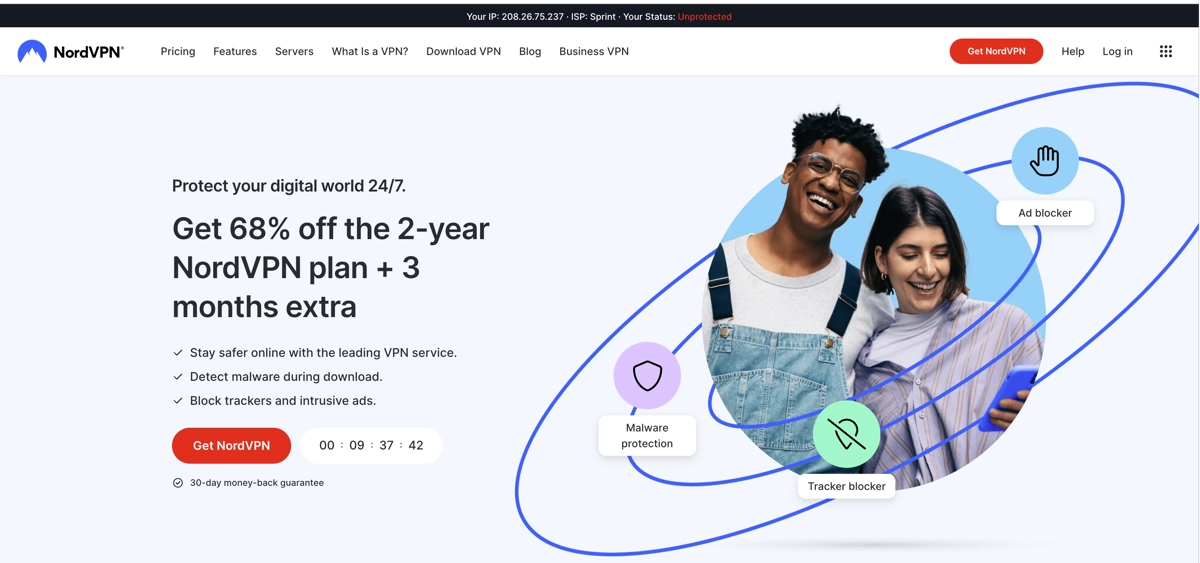 Highlights
Ultra-fast speed and great performance
Netflix and other streaming services unblocked
Dedicated IPs can be obtained
Dedicated Tor & P2P VPN servers
Double hop VPN connections for added security
No logging policy
With over 14 million global users NordVPN is widely considered to be the best overall VPN service provider. It stands out from other VPNs due its reputation as a "no-log" service, meaning it does not store usage data or logs of any kind. Additionally they offer super-fast speeds, a large global network servers, unblocking of Netflix and other streaming providers and state-of-the-art security overall.
Additionally, NordVPN is based in Panama which puts it outside the jurisdiction of many governments so users can enjoy more privacy than with some other services. Furthermore, this top-rated option comes at an affordable price that fits most budgets while providing excellent performance on compatible devices.
In terms of features and capabilities you get great versatility with unlimited bandwidth and access to servers in 58 countries around the world plus support for popular platforms such as Android, iOS, Windows and macOS.
NordVPN Pricing
NordVPN 2 Year Plan Pricing
Most Popular 2-year Plus plan at $3.99 / month (Savings of 62%)
2-year Complete plan at $5.99 / month (Savings of 68%)
2-year Standard plan at $3.19 / month (Savings of 61%)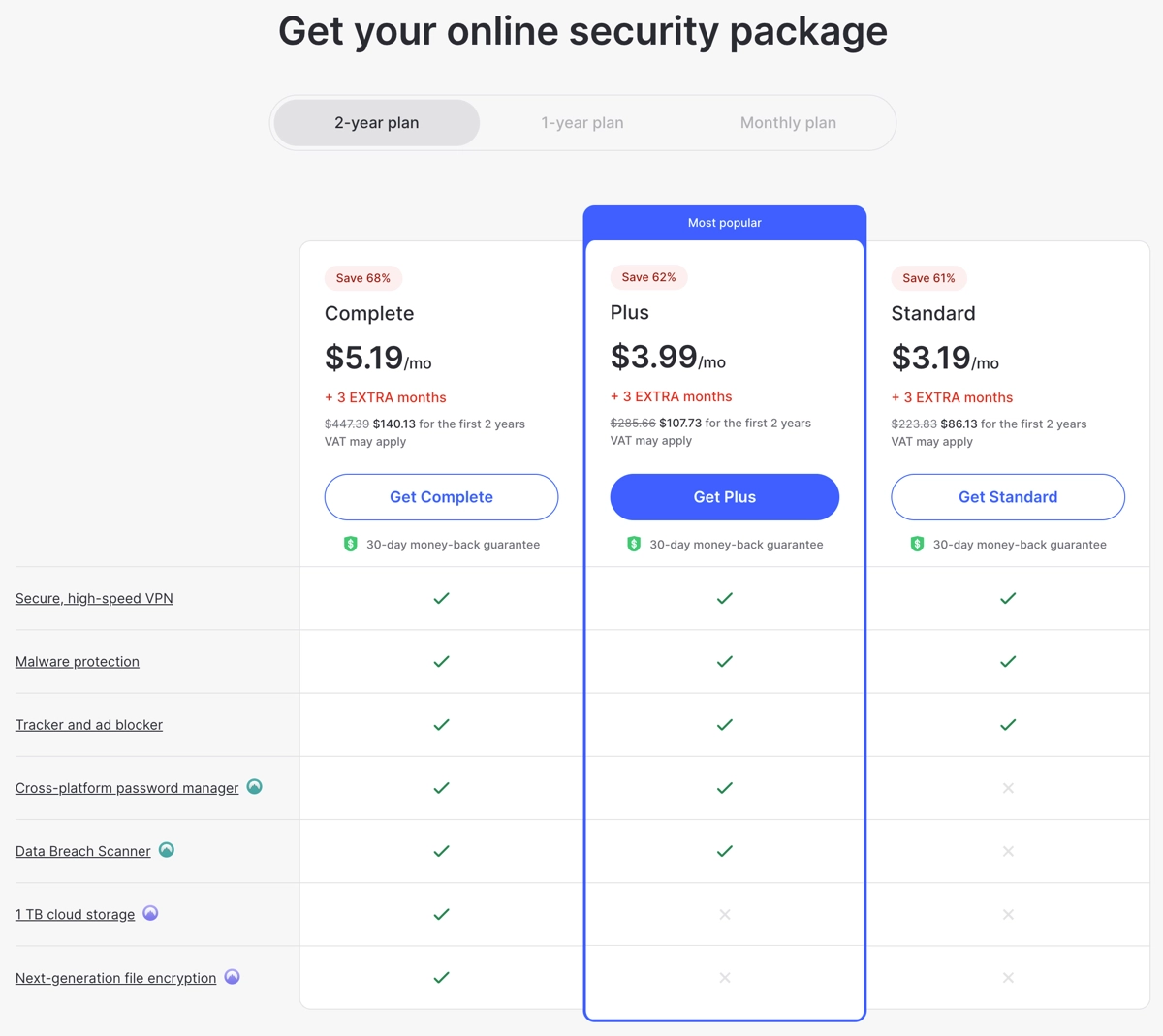 In addition to the 2 year plan NordVPN also offer a 1 year plan and a monthly plan both of which have been outlined in detail below:
NordVPN 1 Year Plan Pricing
Most Popular Plan 1 year Plus plan at $5.79 / month (Savings of 45%)
1 year Complete plan at $6.99 / month (Savings of 57%)
1 year Standard plan at $4.99 / month (Savings of 39%) 
NordVPN Monthly Plan Pricing
Most Popular Plan monthly Plus plan at $13.79 / month
Monthly Complete plan at $14.99 / month
Monthly Standard plan at $12.99 / month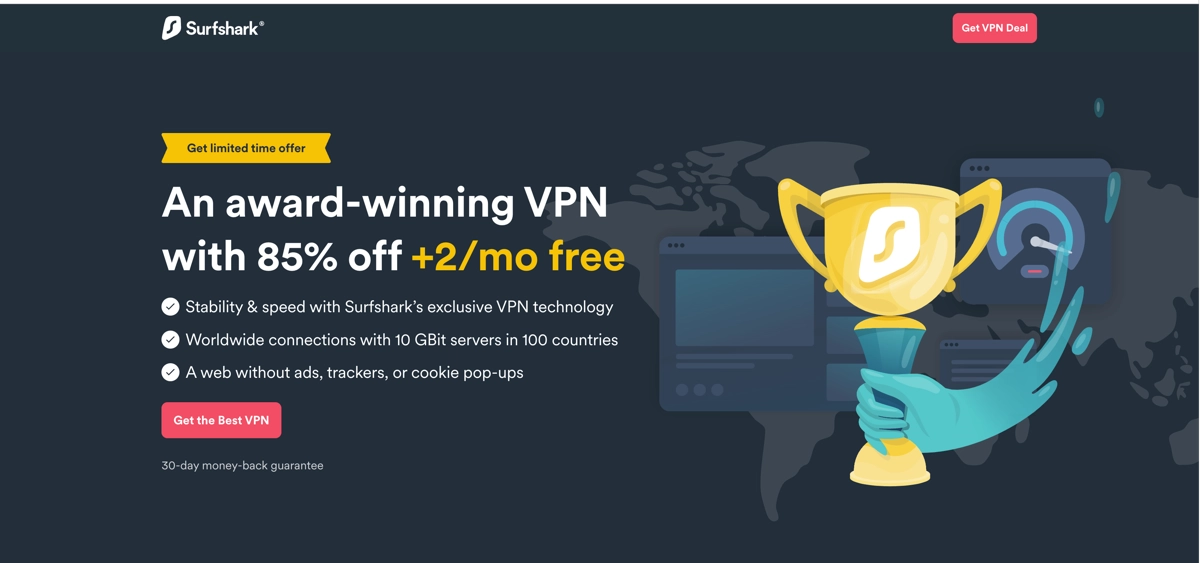 Highlights
Unlimited number of concurrent connections
Blocking of ads, trackers and malware
Apps for all devices that are intuitive and user-friendly
Works seamlessly to unblock Netflix and other streaming services
Live chat support that is available 24/7
Encryption that is strong and audited security features
Surfshark is a highly rated, intuitive, and affordable VPN service provider which was founded in 2018 by Vytautas Kaziukonis. With innovative technology such as ' CleanWeb' to block ads and malware, MultiHop servers that mask IP addresses and multiple security protocols such as IKEv2 and OpenVPN make Surfshark one of the leading providers of online privacy protection.
In 2022 it merged with Nord Security making its capabilities even more powerful in terms of protecting user data from cyber-attacks or snoopers across the web. This makes Surfshark one of the top 10 VPN services given its impressive features like unlimited simultaneous connections per account, streaming content unrestrictedly with no buffering delays or bandwidth limits while providing users with unbeatable speeds at an affordable price range.
Surfshark VPN Pricing
Surfshark VPN 2 Year Plan Pricing
Most Popular 2-year One plan at $3.49 / month (Savings of 81%)
2-year Starter plan at $2.49 / month (Savings of 84%)
2-year One+ plan at $6.49 / month (Savings of 69%)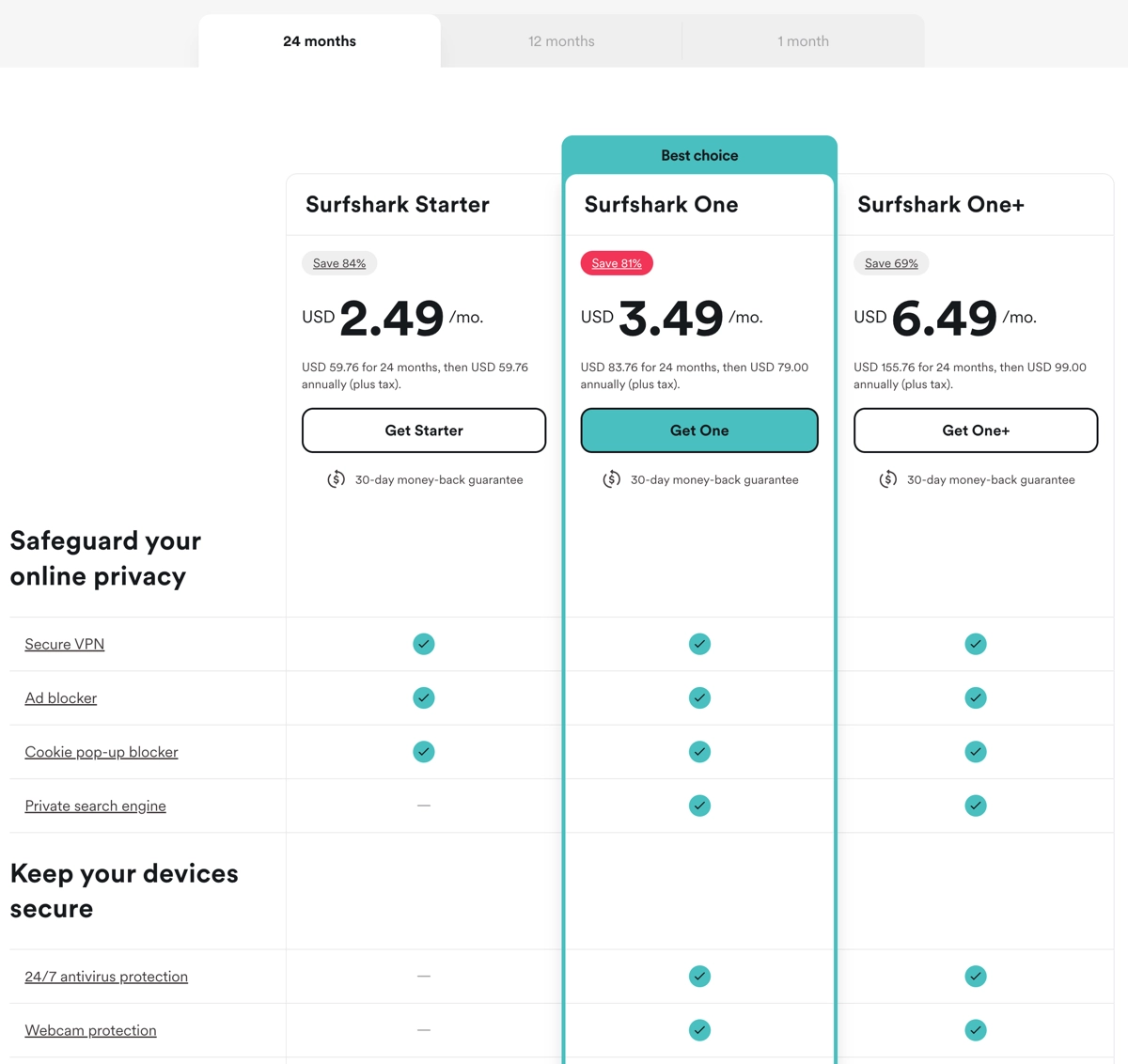 Surfshark VPN also offers 12 month and monthly plans. The pricing for these has been outlined below:
Surfshark VPN 1 Year Plan Pricing
Most Popular Plan 1 year One plan at $4.49 / month (Savings of 75%)
1 year Starter plan at $3.99 / month (Savings of 74%)
1 year One+ plan at $8.29 / month (Savings of 60%) 
Surfshark VPN Monthly Plan Pricing
Most Popular One monthly Plus plan at $17.95 / month
Monthly Starter plan at $15.45 / month
Monthly One+ plan at $20.65 / month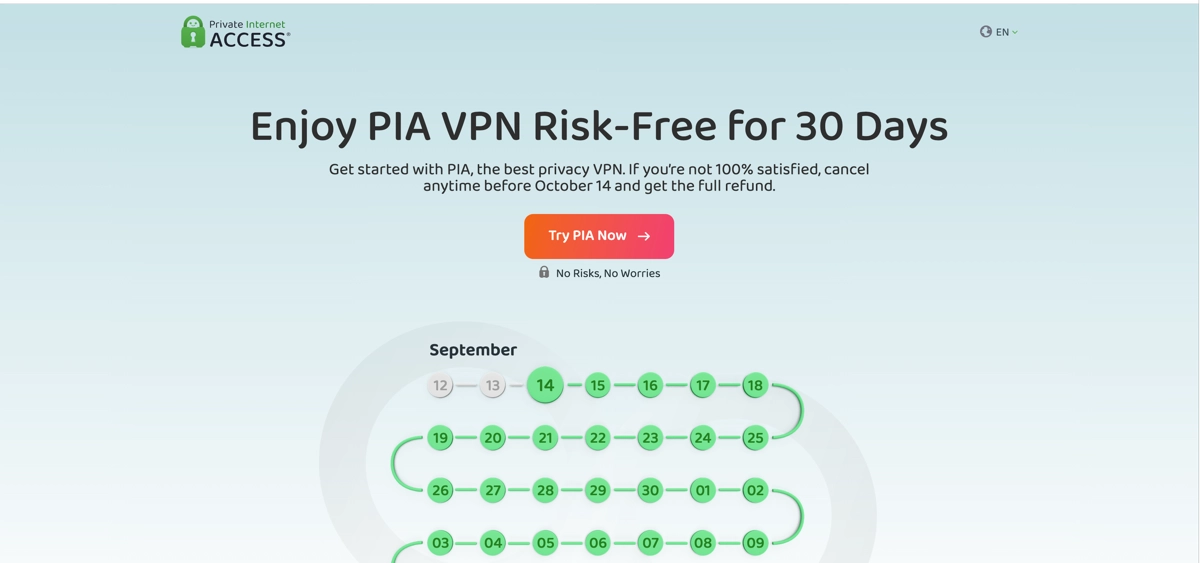 Highlights
Ultra-fast global network with servers in 84 countries
Private Internet Access has a strict no-logs policy
Connections are secured with 256-bit AES encryption
Secure apps are available on all platforms and devices
Unlimited number of device connections
Split tunneling offered
24/7 customer support
Private Internet Access is a highly regarded virtual private network (VPN) service provider that has been endorsed by major media outlets, including The Miami Herald, pcmag.com and Lifehacker. It provides users with enhanced online security through its advanced encrypted internet connections with the latest encryption technologies such as OpenVPN, IPsec/L2TP and others for secure access of websites, emails, applications and other services directly from your device or laptop.
With Private Internet Access VPN you get military-grade 256 bit AES level encryption on all devices regardless of platform so you can be sure that your data is always protected against hackers and snoopers who try to gain access to sensitive information using public wireless networks or unencrypted web browsers.
Additionally, it offers unlimited bandwidth along with server options in more than 45 countries across the globe which makes it one of the best VPN services of 2023 for ultimate online security while browsing from any location worldwide.
Private Internet Access VPN Pricing
Private Internet Access VPN Plan Pricing
Most Popular 3 Years + 3 Months Free plan at $2.03 / month (Savings of 83%)
1 Year plan at $3.33 / month
1 Month plan at $11.95 / month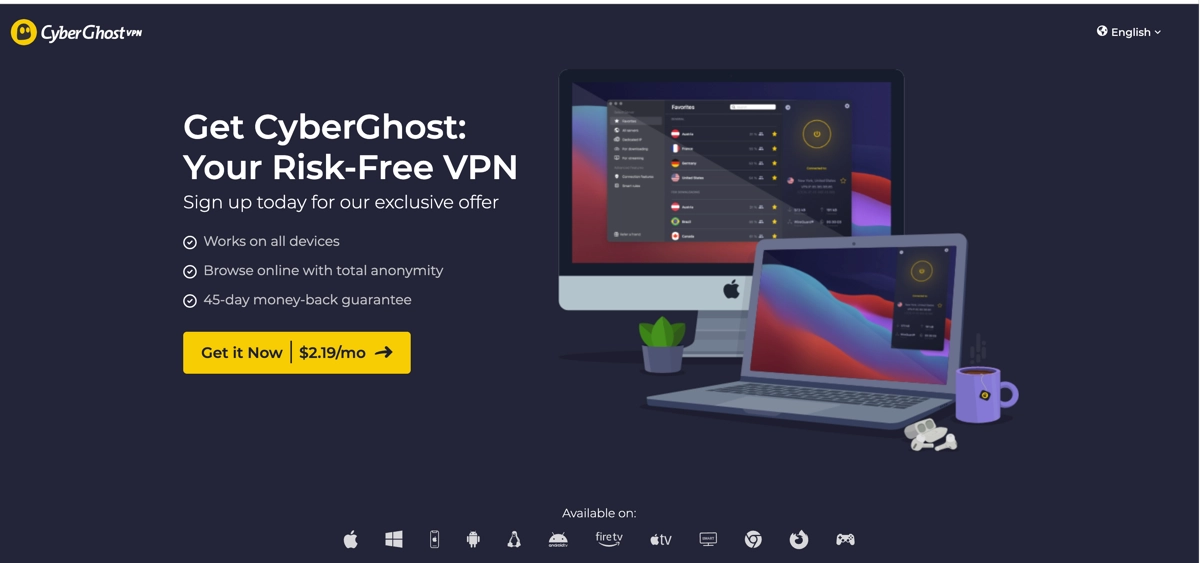 Highlights
Huge network of over 9596 servers in 90 countries
IP masking feature making you untraceable
Super fast speeds with no buffering or lag when streaming and gaming
Strong 256-bit AES encryption
100% no logs policy which is independently audited
Option to try CyberGhost VPN for 45 days risk-free
Multilingual customer support via live chat and email
CyberGhost VPN is one of the leading providers in online security and privacy, offering a comprehensive service of 2023. With its robust servers providing over 9596 secure connection locations, it's no surprise that CyberGhost VPN tops the list as one of the top 10 VPN services.
Their apps are compatible with Windows, MacOS, iOS, Android and Linux operating systems meaning users can enjoy easy and hassle-free access to an anonymous internet experience across all their devices.
Moreover, CyberGhost provides superior technology such as reliable encryption protocols supported by both WireGuard or OpenVPN on UDP/TCP ports. Furthermore, CyberGhost has dedicated apps for streaming platforms like Netflix and Hulu giving users unhindered access to content while maintaining strong digital anonymity protection when browsing online.
CyberGhost VPN Pricing
CyberGhost VPN Plan Pricing
Most Popular 2-year + 2 Months plan at $2.19 / month (Savings of 83%)
6 Months plan at $6.99 / month
1 Month plan at $12.99 / month 
Add-on option to purchase dedicated IP for $2.50 / month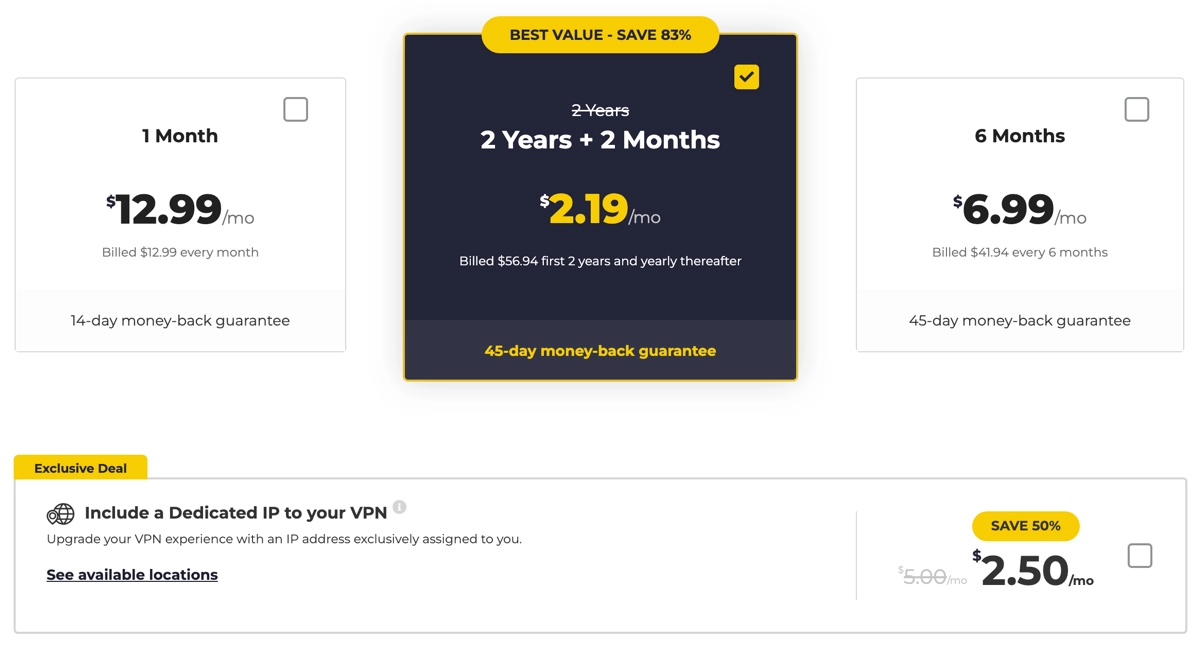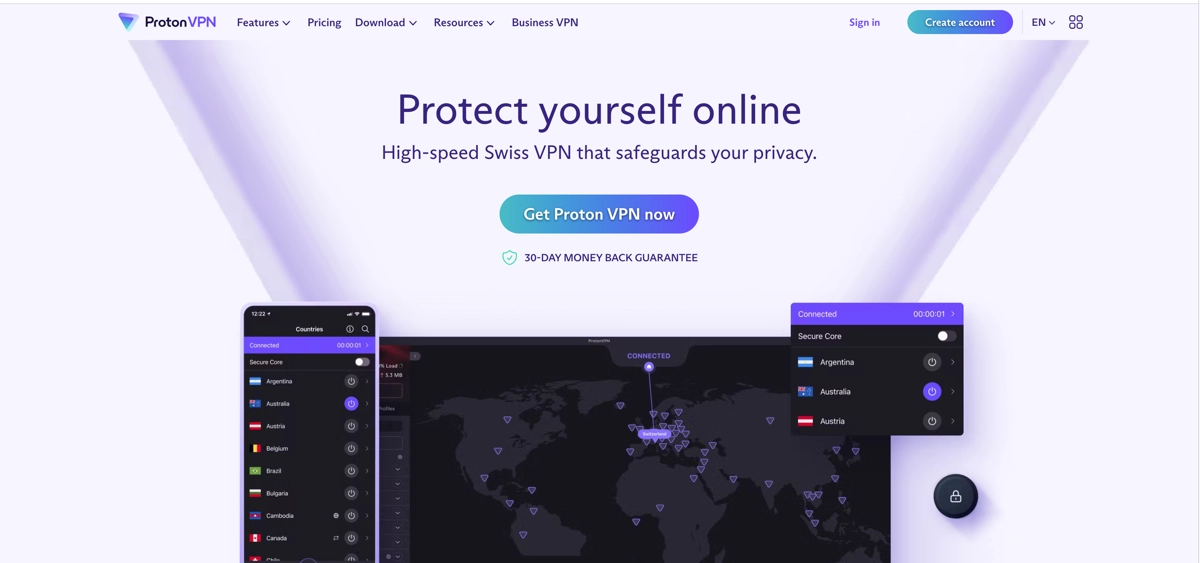 Highlights
2900+ servers across 65+ countries
Blazing fast VPN speed
Ability to protect 10 devices at a time
Ad-blocking and malware protection
Double hop for added protection
Ultrafast P2P/BitTorrent downloads
Proton VPN is one of the top 10 VPN services of 2023, offering users ultimate online security and privacy. It provides strong encryption protocols combined with strict no-logging policies to ensure that user data stays secure and private.
It also features a wide network of 2,900 servers in 65 countries, providing users with broad access to various locations around the world. ProtonVPN can effectively bypass geographical restrictions by allowing users to virtually change their location and unblock region restricted content from other countries without having to worry about censorship or tracking.
In addition, Proton VPN offers an unlimited free option which allows anyone who wants basic protection from cyber threats to enjoy secure browsing with no ads without any financial commitment required. Proton Free allows users to securely browse the internet by connecting to the Proton VPN service on 100+ servers located in the United States, Japan and the Netherlands. 
Proton VPN Pricing
Proton VPN Plus
2-year plan at $4.99 / month (Best value with savings of $156)
1-year plan at $5.00 / month (Savings of $66)
1-month plan at $9.99 / month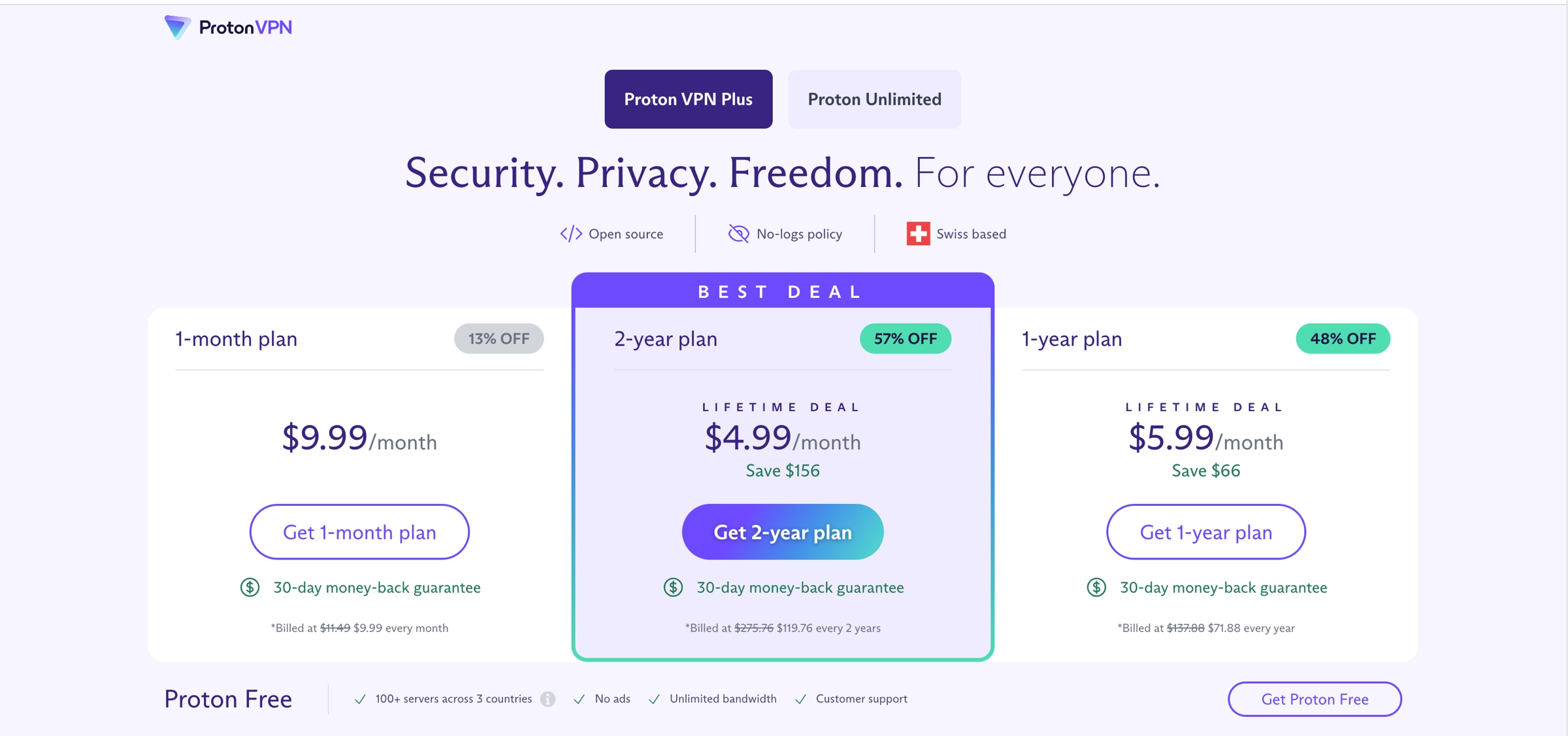 Proton VPN Unlimited
Proton VPN Unlimited provides the ultimate in online protection. Users who subscribe to the Unlimited plan will in addition to Unlimited VPN access also gain access to Proton Mail, Calendar, Drive and Pass for a fantastic all in one offering.
Most Popular 2-year plan at $7.99 / month (Best value with savings of $96)
1-year plan at $9.99 / month (Savings of $24)
1-month plan at $11.99 / month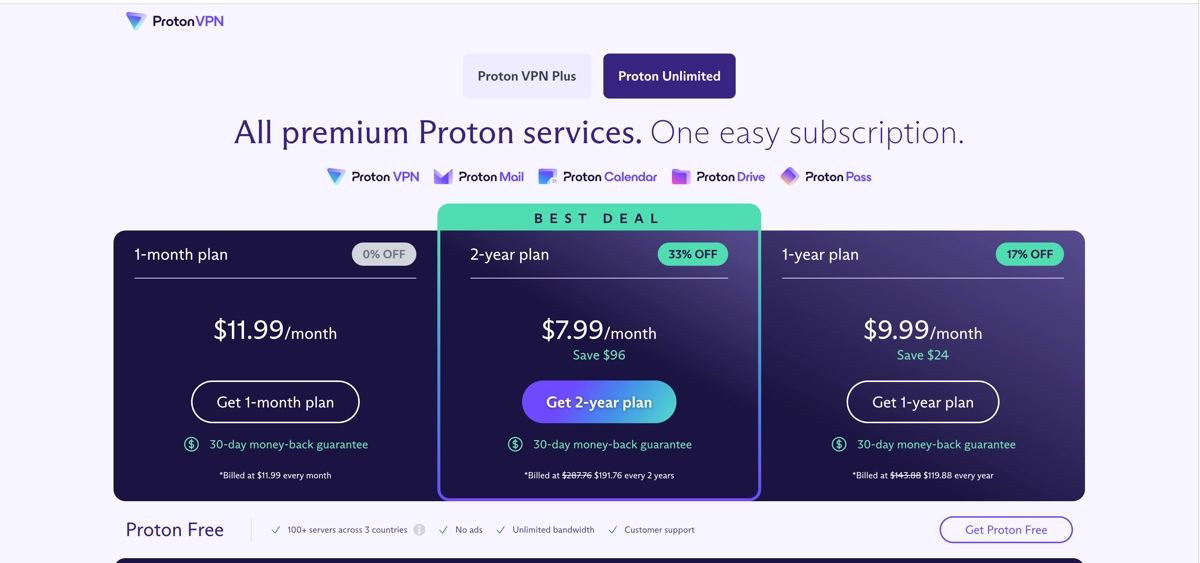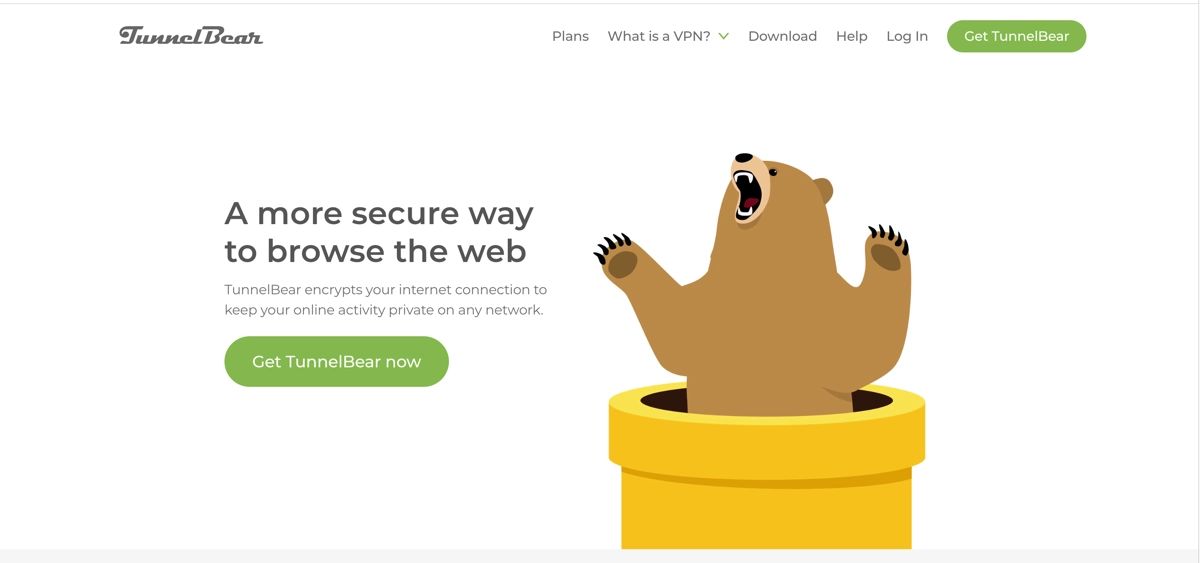 Highlights
Free plan is available with 2GB of free data each month
TunnelBear has a strict no-logs policy in place
They have annual security audits
The software is easy to use and available on all devices
They offer great value with their unlimited plat at $3.33 / month
Highly recommended by leading websites like Wirecutter
TunnelBear VPN is one of the top 10 VPN services, offering secure service with strong encryption technology to protect users online. With its user-friendly interface and applications available for multiple platforms such as Mac, PC, iOS, Android and Chrome, TunnelBear is considered the best VPN for beginners.
As a Canada based provider in virtual private networks (VPNs), it delivers fast connection speeds with unlimited bandwidth usage so that users can browse anonymously without restrictions or data caps.
Additionally, seamless privacy features like automatic server selection and dedicated IP addresses are also offered to help enhance security even further while protecting personal information from hackers or government spies.
TunnelBear VPN Pricing
TunnelBear Monthly Plan Pricing
Most Popular Unlimited plan at $3.33 / month
Teams plan at $5.75 / month
Free Plan with 2GB of free data transfer each month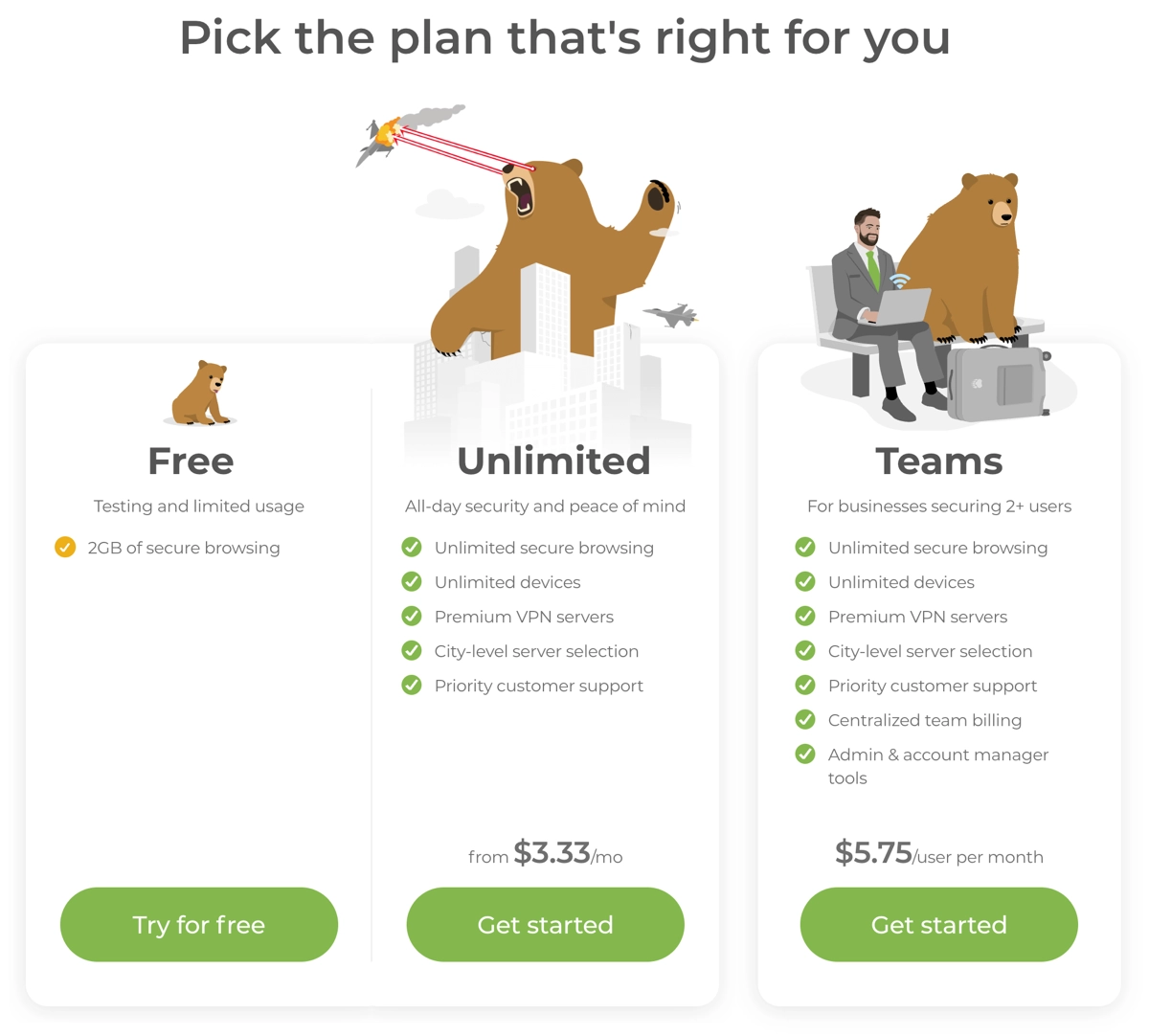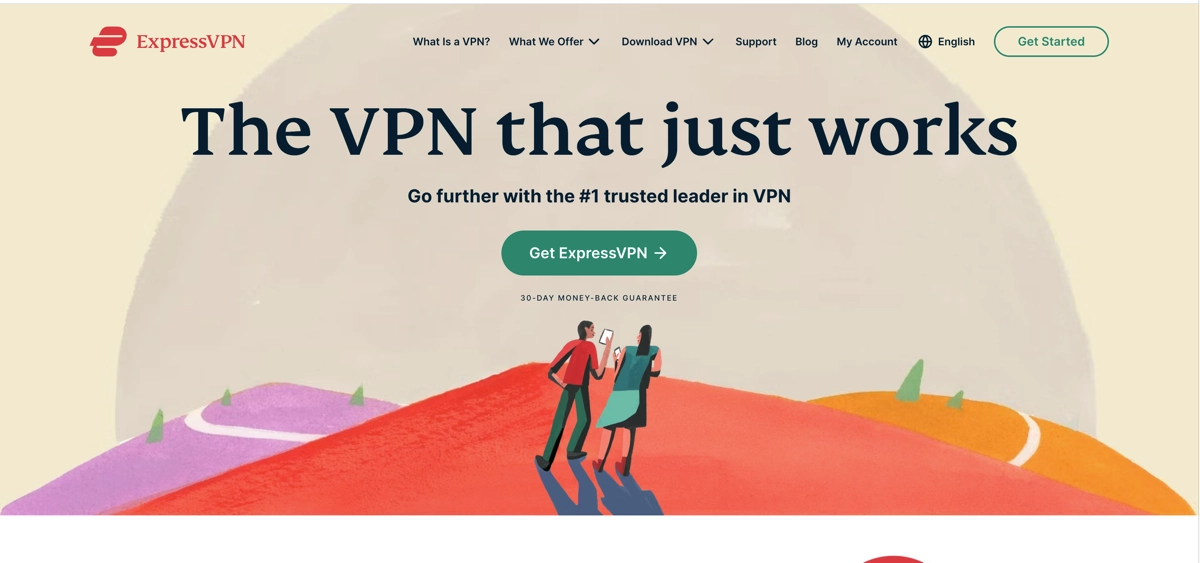 Highlights
Lighting-fast speeds
Secure apps that are intuitive and user friendly
Split tunneling feature (available on macOS, Windows and routers)
Unblocks Netflix and most other streaming services
Passes third-party independent audits for security and no-logs
Large network of servers in more than 94 countries
Live chat support available 24/7
All plans come with a 30-day money-back guarantee
ExpressVPN is among the top VPN services, offering a high degree of performance and quality. CNET has tested various popular VPNs and recommends ExpressVPN as one of the best.
It's highly regarded among users all over the world for its class-leading security features, reliability, and wide range of platforms across which its services are available. With servers located everywhere around the globe in over 94 countries, it provides formidable privacy protection alongside great connection speeds regardless of location.
Additionally, with an immense number of servers to connect to come no matter how many other people use their service concurrently without affecting performance or speed rates drastically make this VPN provider very reliable.
ExpressVPN Pricing
ExpressVPN Plan Pricing
Most Popular 12 Months plan at $8.32 / month (Savings of 35%)
6 Months plan at $9.99 / month
1 Month plan at $12.95 / month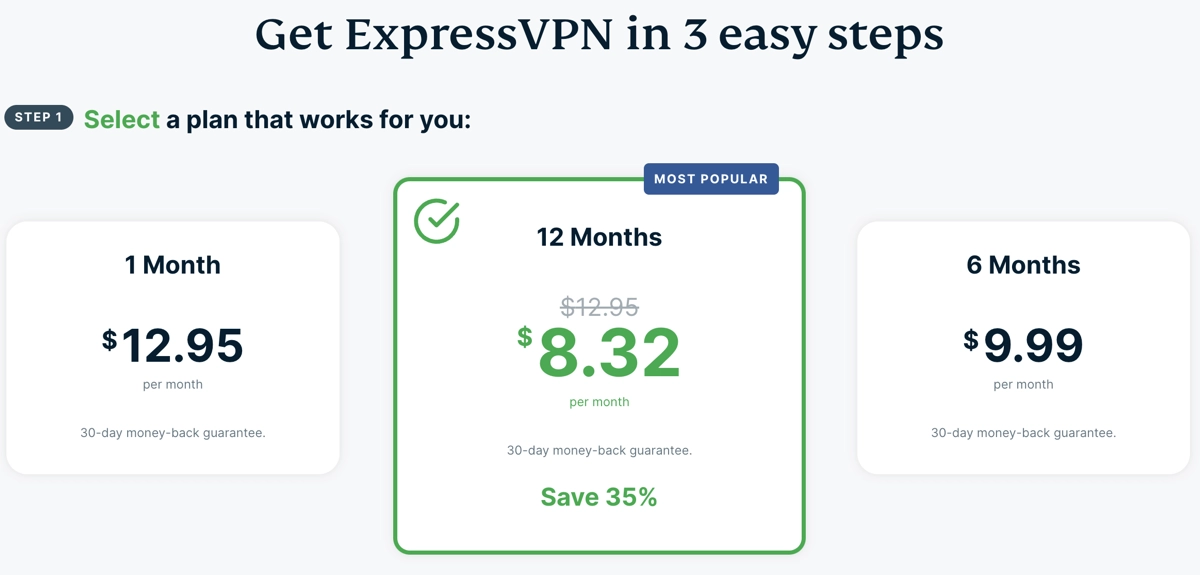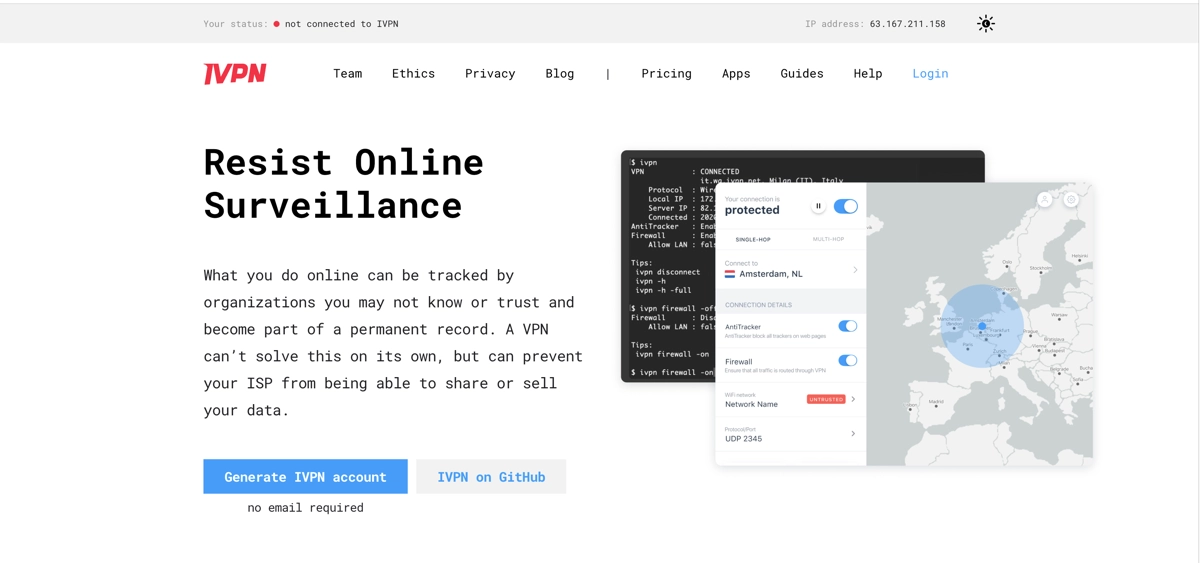 Highlights
IVPN does not log any information and has a strict no-logs policy
No personal information is collected not even email addresses
They also offer payments in cash, monero and Bitcoin
Their apps and website is open-source and open for inspection
All servers they manage are self hosted and operated by IVPN
IVPN is a great product and offering at a great price
IVPN is well-regarded as one of the top VPN services, offering robust security and privacy features. It scored extremely well of all providers tested on various factors such as speed, privacy, Netflix compatibility, China firewall bypassing ability and more.
IVPN prides itself in a transparent service with secure servers located in 15 countries worldwide including Canada and Singapore. While it isn't the cheapest option available with plans starting at $5/month for the IVPN Standard plan and $8/month for the IVPN pro plan when prepaid annually, its protocols are top notch and offer peace of mind for users that need extra protection from surveillance or cyber threats.
Furthermore with its fast connection speeds and no-log policy this makes it an attractive option for those seeking secure VPNs to access streaming content without reduction in bandwidth speeds or quality.
IVPN Pricing
IVPN Standard Pricing
Most Popular 3 Years at $140 total
2 Year plan at $100 total
1 year plan at $60 total
Monthly plan at $6 / month
Weekly plan at $2 / week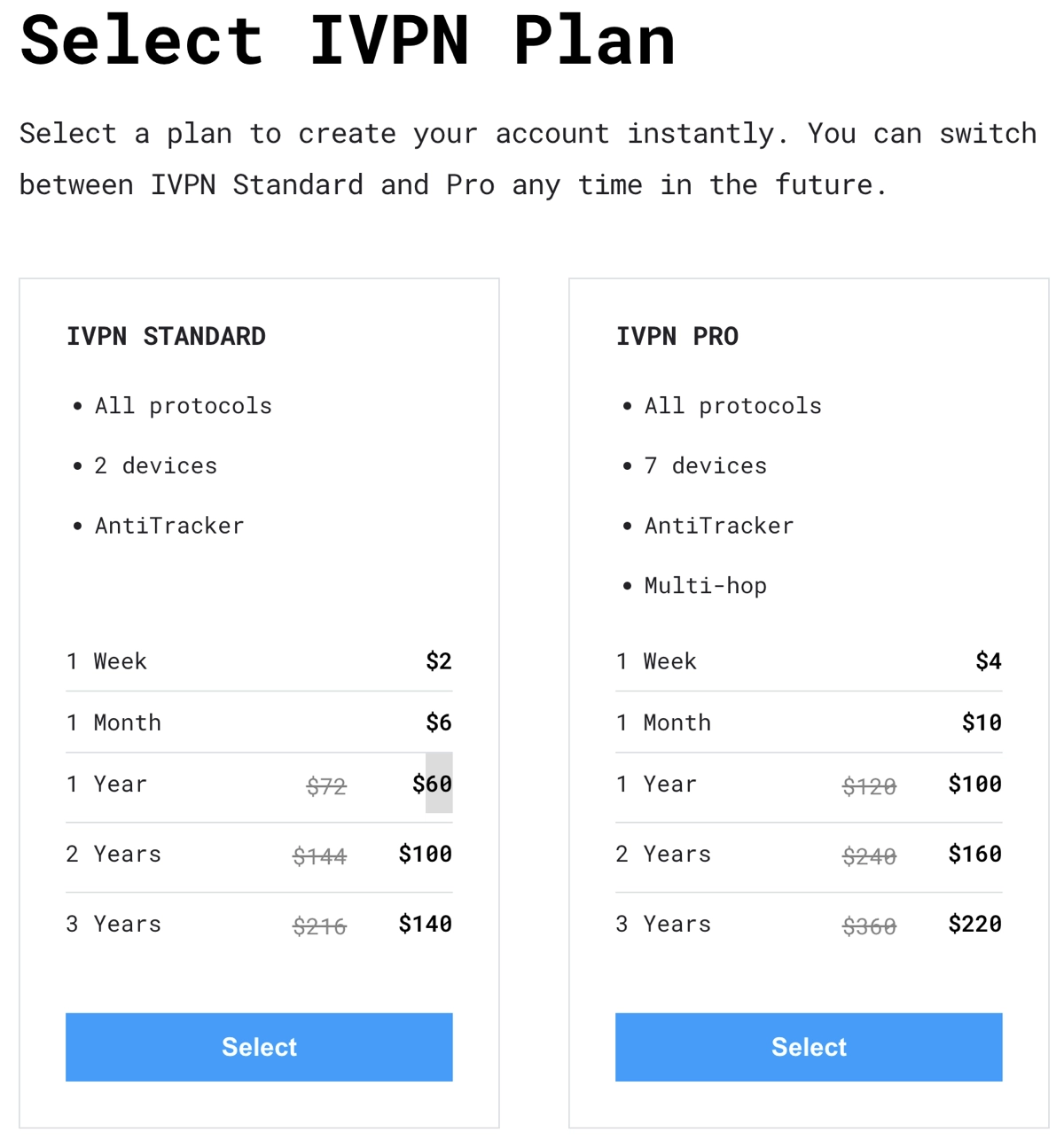 In addition to the standard plan IVPN offers a pro plan with added features such as additional devices, AntiTracker and multi-hop. The pricing for the pro plan options can be seen below:
IVPN Pro Pricing
Most Popular 3 Years at $220
2 Year plan at $160 total
1 year plan at $100 total
Monthly plan at $10 / month
Weekly plan at $4 / week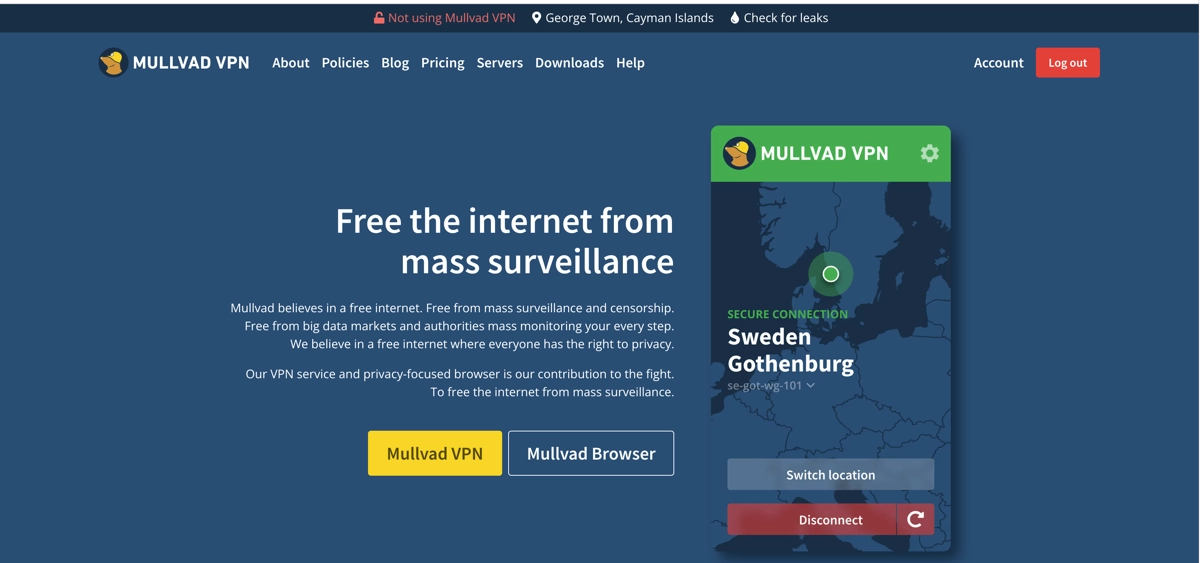 Highlights
Excellent track record and highly respected
Split-tunneling and multi-hop features
Ultra-fast servers reaching speeds of up to 200Mbps
Easy to use and intuitive software
Quick customer service responses
Has a no-logs policy
Supports torrenting
Mullvad VPN is a highly recommended option when it comes to online security. Offering users a secure virtual private network, it is fully open-source and operated from Sweden without data collection or retention on personal information.
It's also incredibly fast with speeds up to 200 Mbps perfect for streaming services, gaming websites and other heavy content, allowing anyone access into restricted websites worldwide while keeping safe.
Mullvad VPN has impressive privacy features such as 256-bit AES encryption which make sure that no one can track your activity regardless of wherever you are in the world and provides top-notch digital protection against cyber criminals online.
Mullvad VPN Pricing
Mullvad VPN Plan Pricing
Very simple and easy to understand pricing model €5 ($5.42) / month. Regardless of whether you continue with their service for a year or a decade the pricing remains the same.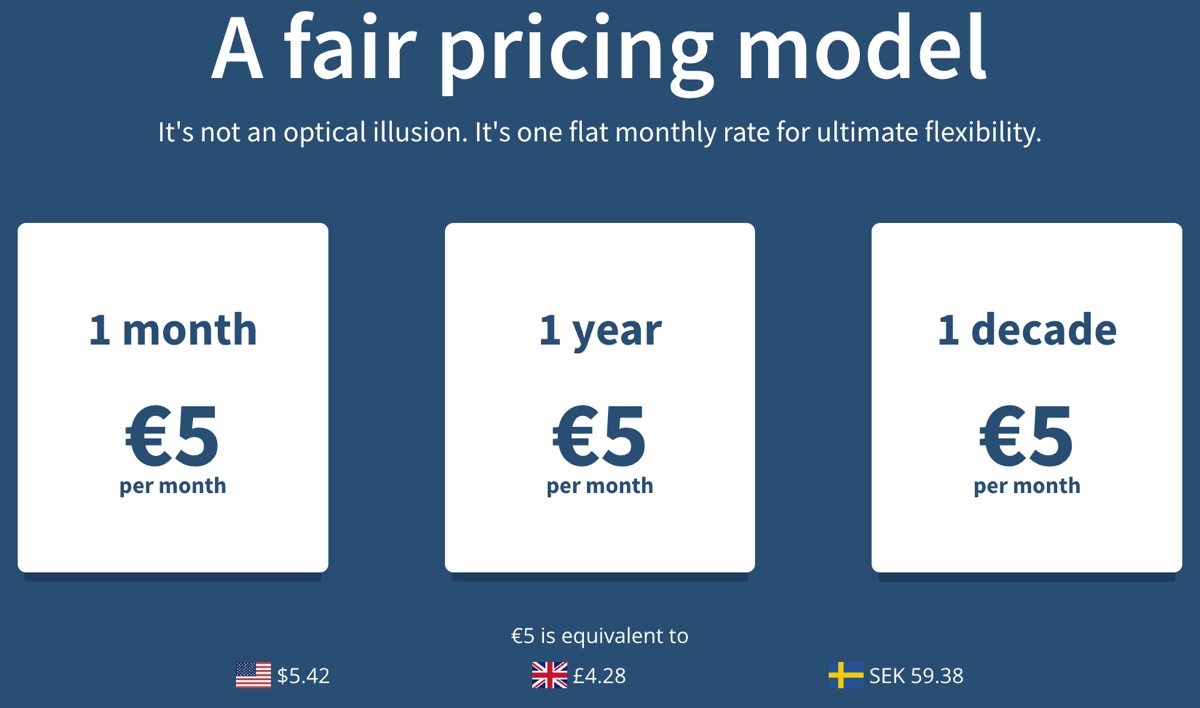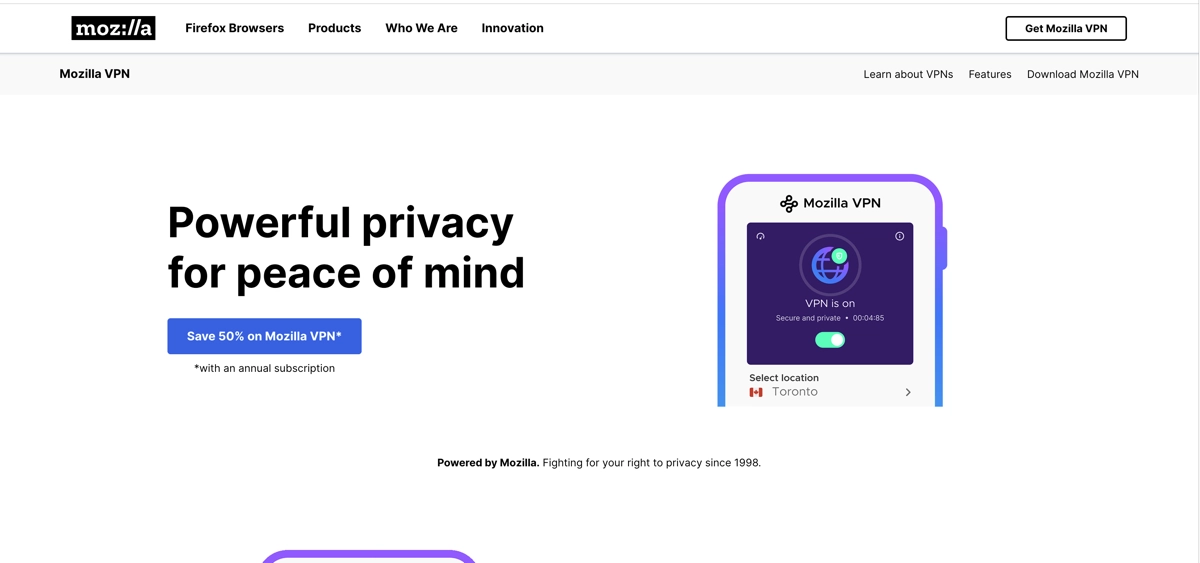 Highlights
Over 500 servers in more than 30 countries
Supports connections for up to 5 devices
Blazing fast network suitable for gaming and streaming
No logging, tracking or sharing of any network data
No bandwidth restrictions or throttling
Mozilla VPN is an affordable and secure virtual private network that provides users with a great countermeasure to improving their online security. With full device protection for all apps, offered at a low cost of $4.99 per month covering up to five devices, this service promises to provide excellent value for money.
Users are strongly protected against malware and tracking cookies while accessing content from anywhere in the world as it offers server coverage across more than 30 countries. Moreover, subscribing to Mozilla VPN supports the promotion of free unrestricted internet as it bypasses any censorship or geographic barriers so users can access content securely regardless of their location.
The easy-to-use interface makes this service user friendly even for novice tech enthusiasts and its subscription model allows them choose from monthly or yearly plans according to their needs; perfect choice for those who need extra layer of privacy but don't wish to incur too much expense in doing so!
Mozilla VPN Pricing
Mozilla VPN Plan Pricing
Most Popular 1 Year plan at $4.99 / month (Savings of 50%)
1 Month plan at $9.99 / month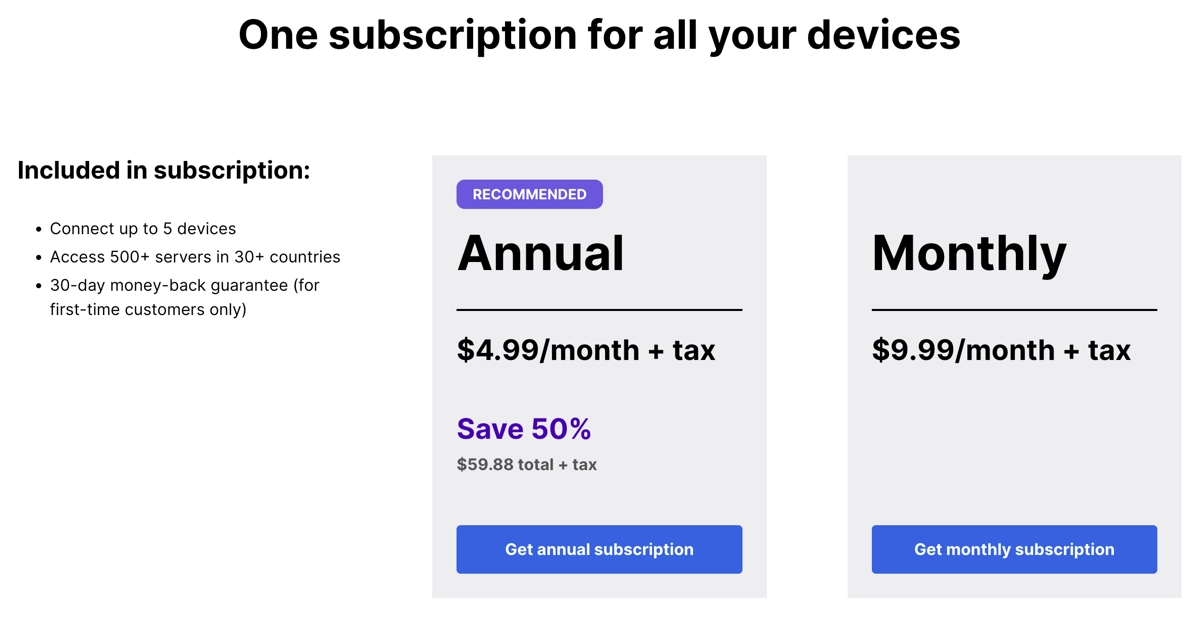 Key Features and Benefits of Each VPN Service
NordVPN is the top choice among privacy-minded users because it offers end-to-end encryption to protect personal data from hackers and criminals. It also provides access to servers located around the world, reducing potential latency and ensuring smoother online experiences.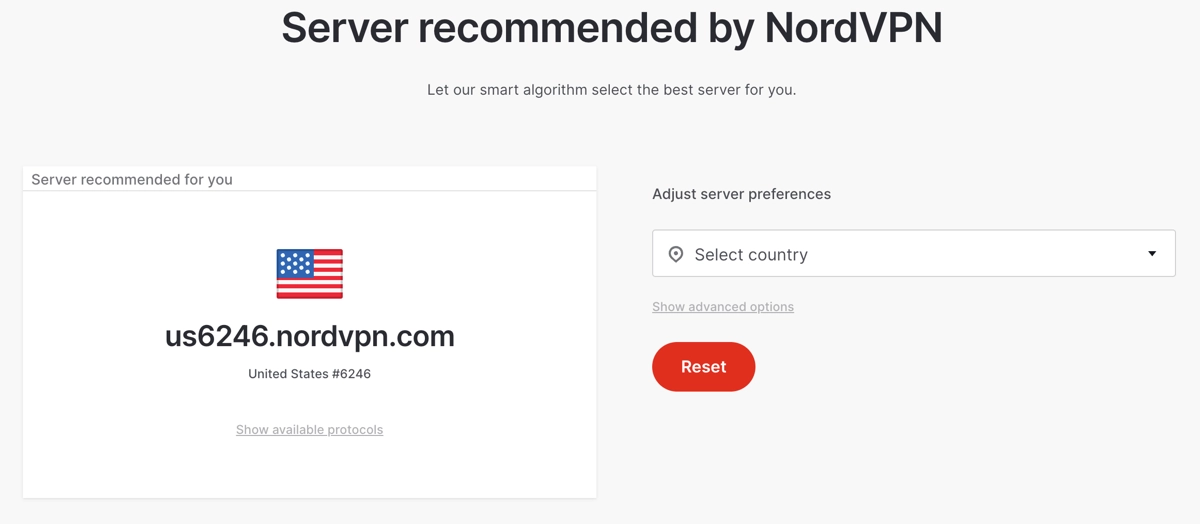 Furthermore, its security protocols like Transport Layer Security (TLS) further strengthen online protection for its users.
NordVPN has become one of the most popular VPN services in recent years due to its reliable performance, global server coverage, strong connection speeds and advanced encryption technologies.
This service boasts features like double VPN technology which encrypts internet traffic twice over while being more secure than other providers' single layer protection plans. Moreover many of NordVPN's services are customizable so that users can set their own preferences when it comes to privacy settings and protocols such as OpenVPN conversing via P2P networks or streaming geo blocked media content from specific regions will find this service extremely helpful in getting around these restrictions easily within moments.
Mozilla's new take on virtual private networks uses modern algorithms including WireGuard with Quantum support capability for your device such as iOS, Android or Windows devices plus Linux systems providing updated protocol variants offering enhanced performance compared with traditional IPSEC/OpenVPN Tunneling methods whilst simultaneously improving modern cybersecurity war techniques against Darknets attacks unknown by many companies out there making this an ideal solution for organizations dealing with sensitive crucial information regularly propagated across secured hosted environments !
Factors to Consider When Choosing a VPN
You should consider factors such as privacy and security features, server locations, connection speed, device compatibility, and pricing plans when selecting a VPN.
Privacy and Security Features
The privacy and security features offered by VPNs are essential for keeping online activities safe from cyber-threats. These services use a variety of protocols, such as OpenVPN, IPSec, IKEv2/IPSec and SSTP to encrypt data in transit and protect users from cyber threats like man-in-the-middle attacks.
To ensure user privacy is fully protected, many VPNs also have special policies that prohibit logging of personal information or browsing activity. Top providers NordVPN and Surfshark both offer industry standard encryption protocols coupled with no log policy guarantees providing reliable data protection.
Additional enhanced controls include Kill Switch technology which blocks internet access when the connection drops unexpectedly to prevent data leakage over unsecured networks; plus DNS leak protection systems that securely block leaking requests so private IP addresses remain confidential at all times.
Server Locations
Server locations are an important factor to consider when selecting a VPN. With the number and diversity of server locations offered by each provider, it can greatly affect your online experience.
More servers mean more options for location selection, allowing users to choose one that is most appropriate for their needs. Accessing content from sources located around the world is made easier with a wide range of server locations.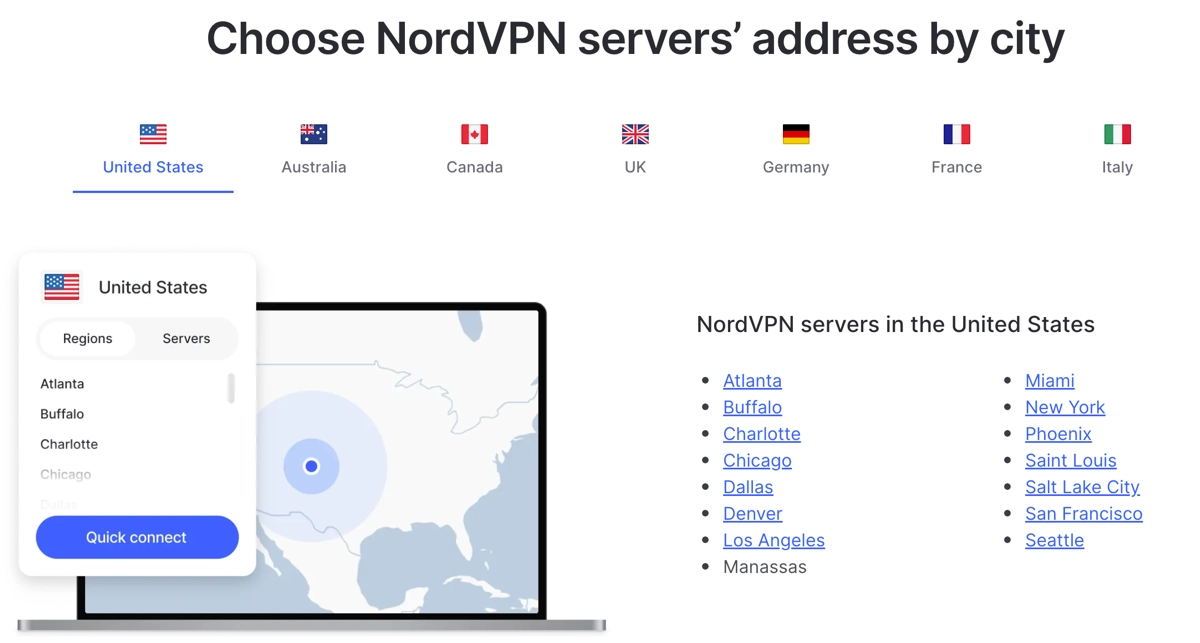 Having a nearby server can result in lower latency and better connection speeds; this is especially beneficial if you are residing in Europe or North America as there will be more servers available closer to you than further away.
In addition, having access to geo-restricted content such as streaming sites like Netflix or Hulu can be done much faster through these servers due to their proximity to the user's physical location and without significant speed drops or lags even on unreliable internet connections.
Connection Speed
A fast connection speed is a key feature to look for when choosing a VPN service as it determines how well streaming, gaming, and browsing activities are handled. For example, NordVPN recorded the fastest average global download speed of 671.59 Mbps in 2023 compared to other VPN services tested this year, making it an attractive option for users who prioritize quick connections and want uninterrupted access while visiting sites overseas or streaming high-definition content.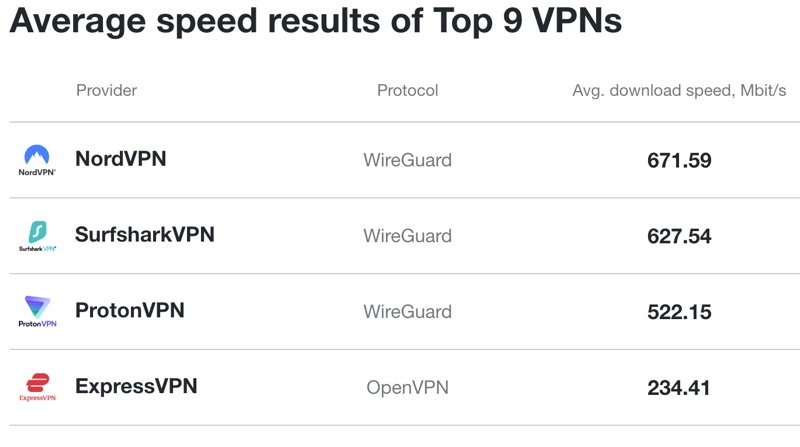 A few factors like server location, network strength/distance from user, device power all have an effect on speeds too so it's good to consider these details carefully before committing.
With a suitable VPN service able to provide higher speeds than those attained without its use — such as with NordVPN providing impressive results — users can rest assured they know what they are signing up for and can enjoy maximum online security along with optimal performance!
Compatibility with Devices
When trying to choose the right VPN, device compatibility is a must. It's important for users to think through which of their devices they will want the VPN on and ensure that the service chosen offers support (for example: Xbox, PS4, Amazon Fire TV Stick).
Not all providers offer this feature so it can be a challenge to find one that works with your specific needs. Additionally, knowing if you need access globally or just within localized areas can help narrow down further which services are better suited for your lifestyle (whether it be work trips or everyday use at home).
By selecting a VPN that supports all technologies in terms of streaming (Netflix), gaming consoles/PCs, and mobile phones will give you best possible user experience when browsing online - regardless of where you're located from day-to-day!
Pricing Plans
When looking for a VPN service, cost can be a major deciding factor and the pricing plans of each individual provider should be closely considered. Fortunately, the top 10 VPN services of 2023 offer a range of different pricing plans to suit all needs and budgets.
ProtonVPN offers its basic subscription for free with additional premium options available as upgrades. NordVPN is widely touted as one of the more affordable providers in this section with their monthly price set at $3.99 while Surfshark claims an even cheaper rate starting from $3.49 per month.
Private Internet Access has also been praised in terms of value for money billing at $2.03 / month when locking in for 3 years. This is common practice when it comes to VPN service subscriptions so just be aware that when you lock in for longer periods you pay less per month with virtually every single VPN service provider out there.
Comparison of VPN Services
Compare the features, benefits and performance metrics of different VPN services in order to make an informed decision.
Speed Test Data
Speed test data is an essential factor when choosing a Virtual Private Network (VPN) service. VPNs are used to encrypt your online traffic and mask your IP address, and the speed of these services has a significant impact on how securely and efficiently you can stream, download, browse the internet, or even play games.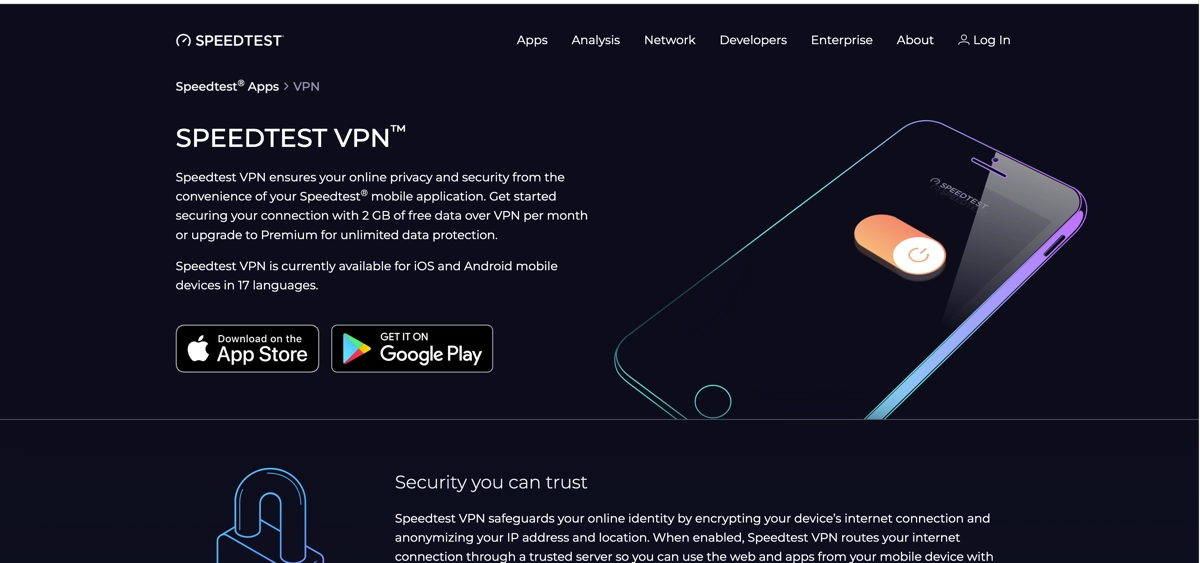 If the provider does not have adequate speed tests conducted through independent testing labs such as Speedtest, it may lead to lags in connection speeds that could potentially compromise both your privacy and security due to issues with buffering.
For this reason many experts recommend conducting speed tests before opting for a particular VPN service as an accurate measure of performance criteria when deciding which one best fits their needs.
Price Comparison
When it comes to pricing, the top 10 VPN services offer different options for users with varying needs. For instance, Private Internet Access VPN is one of the most affordable options on the market - offering a monthly plan starting at just $2.03 per month (when signing up for 3 years)
However, this cheaper price doesn't come without limitations - in some instances such as with CyberGhost are extra fees for additional features like dedicated IP addresses and access to more server locations around the world.
On the other hand, IVPN provides very flexible pricing plans allowing their customers to choose from several subscription models starting at ($2/week), monthly ($6/month) or yearly ($60/year).
All these prices may change depending on promotions and discounts offered throughout 2023 so be sure to keep an eye out!
User Reviews
When choosing a VPN service, it's important to consider user reviews. User feedback can provide valuable insights into the quality, performance and overall user experience of different VPN services.
Reviews from real users can give an overview of how reliable a particular VPN may be as well as what features they offer in comparison to other similar services on the market. Not only that, but reading customer testimonials and experiences with specific providers can also help inform your decision about which provider is best for you; seeing which issues customers have faced when using certain products or resolving technical difficulties gives an idea about support provided by each one.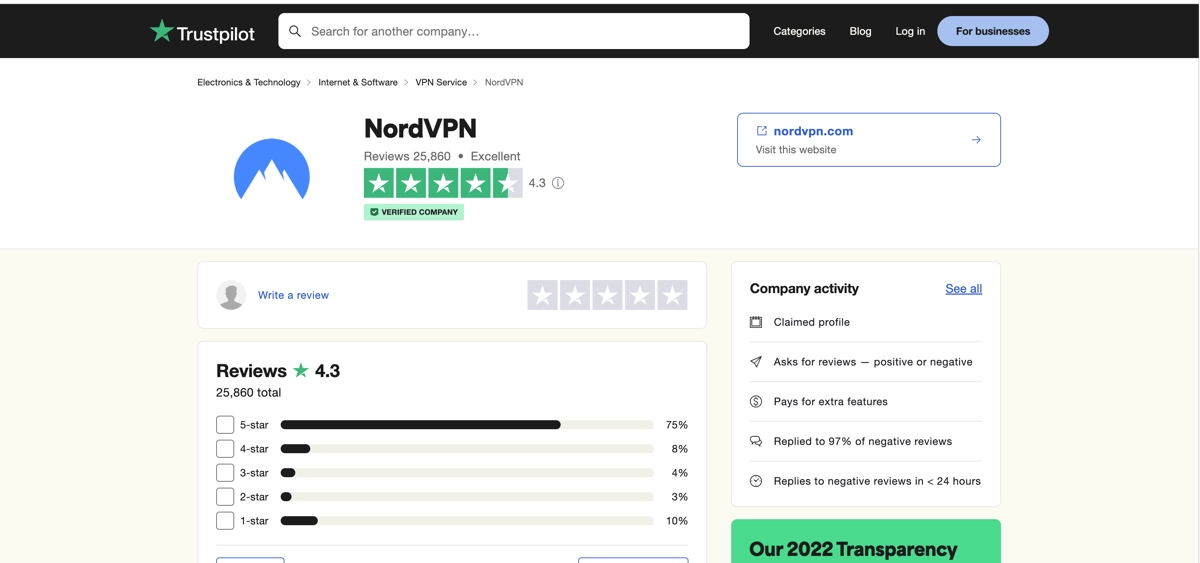 Additionally, comparing user ratings across different platforms like Trustpilot or Reddit does help to see whether people are generally satisfied or not on all devices and pricing plans available for any given product.
Frequently Asked Questions about VPNs
Get answers to important questions such as whether you need a VPN, if they are legal, how they work and if can be trusted.
Do I Need a VPN?
Yes, you do need a VPN. A Virtual Private Network (VPN) helps keep your online activities private and safeguarded against hackers, identity thieves, data miners, governments or other agencies that may be looking to spy on individuals' search history or capture their personal information.
When using a VPN, all of the user's internet traffic is encrypted and passed through secure servers in another location which masks the IP address from potential intruders. It also blocks ads and websites from tracking users' locations while allowing them to access any content they want with complete privacy and security.
By using a reliable VPN service such as NordVPN or ExpressVPN, those who are worried about providing sensitive online information can rest easy knowing that their data is secured by top-notch encryption protocols.
Are VPNs Legal?
VPNs are generally legal to use in most countries around the world, but there are a few restrictions and exceptions. Countries like China, Russia, North Korea, Belarus, Iran, Iraq, Turkey (and others found here) have created laws that specifically make the use of VPNs illegal in some scenarios.
In other countries where the use of VPNs is not explicitly prohibited by an existing law or regulation it may be required to abide by certain additional guidelines when using them.
For instance certain government monitoring policies may forbid transferring data outside the country's borders without approval from state authorities. Overall it is highly recommended for users who live in or travel through countries where VPN usage might be limited or restricted to consult local regulations before attempting to access any content over a virtual private network.
How Does a VPN Work?
A VPN creates a secure connection between your device and the internet by utilising a combination of data encryption, IP address masking, and other security measures. When you connect to a VPN, all of your internet traffic is routed through an encrypted tunnel that serves to protect your online activities from any prying eyes such as hackers or governments.
The VPN then takes over control of the traffic in order to replace your real IP address with its own – which allows for unfettered access while remaining anonymous on the web. Plus, at times when compromised or blocked websites are playing up – due mostly to censorship – a reliable virtual private network lets you bypass them altogether by connecting directly to remote servers securely using an encrypted tunnel.
Can VPNs be Trusted to Protect Privacy?
Yes, VPNs can be trusted to protect online privacy and security. By encrypting your internet traffic and hiding your real IP address, a good VPN secures data travelling across networks and protects users from cybercriminals seeking to steal personal information.
As cloud-based technologies become more common, it is essential that individuals use secure gateways such as VPNs in order to maintain their digital privacy. In addition to anonymous browsing, many of the top tier commercial services also offer advanced features like double hop encryption and Onion over VPN routing which further bolster user security.
With these extra layers of protection enabled, even government agencies may have difficulty accessing user data or sniffing out an individual's location.
Tips for Maximizing Online Security with a VPN
Utilizing strong passwords, enabling two-factor authentication, avoiding public Wi-Fi networks and regularly updating software are key strategies to protect online security when using a VPN.
Use Strong Passwords
Strong passwords are essential for maximizing online security with a VPN. A good password should have a combination of eight or more characters including uppercase and lowercase letters, numbers, and special characters.
Pro Tip: Password management software such as 1Password or Proton Pass will help you to create and store unique passwords for all secure websites you need to access online. Both options are safe and recommended options.
Avoid using easily guessed passwords such as your name or address, birth date or other personal information. Create unique passwords for each account and avoid duplicating passwords across accounts—if one is compromised all the connected accounts could be in danger! Additionally to improve security it's also recommended that users regularly change their passwords every three to six months; this reduces the risk of hacking attempts against old Accounts (which cybercriminals may obtain from data breaches).
With strong and secure authentication methods like two-factor authentication enabled, hackers will have an even harder time gaining access to any sensitive information stored on your device when using a VPN service.
Enable Two-Factor Authentication
Two-factor authentication (also known as multifactor or two-step authentication) is an important security measure for online accounts that requires users to prove their identity before accessing them.
Pro Tip: Google Authenticator is one of the most popular Two-Factor authenticator apps. The app is free to download and use and is available both on Android and Apple devices.
It adds an extra layer of protection by requiring a user to provide not only a username and password, but also additional forms of verification such as an access code sent via SMS or email, using voice recognition software or biometrics like fingerprints and facial recognition.
By combining two methods of identifying the user—something they know (password) with something they have (verification codes)—two-factor authentication makes it much harder for malicious actors to gain access.
Avoid Public Wi-Fi
Public Wi-Fi networks are incredibly convenient but notoriously insecure, making it easy for hackers to access your sensitive data. To protect yourself and your online activity, experts recommend avoiding public Wi-Fi altogether if possible or using a Virtual Private Network (VPN) when connecting.
VPNs help encrypt internet traffic and mask IP addresses to keep users safe while connected to a public network. They also provide an extra layer of privacy by adding a protective wall between the user's device(s) and others on the same public network by securing encrypted connections over any unsecured details you may be sending across or receiving from that environment.
With the introduction of 5G technology more powerful than what is currently available, cybercriminals can penetrate through unprotected links in minutes with greater chances of success within public networks; this makes it easier for them to store personal information such as logins, passwords, account numbers etc. Therefore using a reputable VPN service is one way in which users can secure themselves against these threats while still enjoying all the benefits offered by using publicly accessible WiFi networks without having their information compromised or used in any malicious activities involving multiple parties at once.
Regularly Update Software
Software updates are absolutely essential for maintaining the highest levels of security when using a VPN. Not only do software updates provide access to new features, but they also contain critical bug fixes and other important patches that help prevent your device from becoming vulnerable to attack.
By patching existing flaws in programs, operating systems, apps and plugins, users can reduce their risk of being subject to certain cyber attacks such as malware or ransomware. Additionally, updating software ensures your devices have all the latest components installed which results in stronger performance overall – this means faster connection speeds while browsing online with a VPN service! It's always best practice to enable automatic update notifications so you don't miss any key security or feature enhancements.
Be Cautious with Personal Information
In the digital age, online privacy and security are more important than ever. Using a VPN service is one of the best ways to protect your personal information and ensure that you have secure online browsing experience.
Pro Tip: For individuals who are reluctant to share personal information with their VPN provider IVPN is a great option. When registering with them you do not need to provide them with a single piece of personally identifiable information.
However, it is also essential to practice caution when sharing any personal information online - even with a reliable VPN provider. Sharing too much (or incorrect) personal data can open up opportunities for identity theft or malicious hacking attempts on sensitive accounts like banking websites.
It is always important to use secure passwords, enable two-factor authentication whenever possible, avoid public Wi-Fi networks (which are vulnerable), regularly update software and devices used for online activities, as well as be conscious about what personally identifiable information you share publicly or otherwise over an unsecure connection without encryption protection provided by a VPN.
How VPNs Enhance Online Security
Through the use of encryption techniques and access to virtual servers, VPNs provide users with enhanced internet privacy protection, masking IP addresses, and bypassing censorship and geographic restrictions.
Encrypting Internet Traffic
When you use the internet, your communication is sent through billions of networks and computers before it arrives at its destination. Your data travels in plain text form which can be intercepted by hackers – until a VPN comes into play! A Virtual Private Network (VPN) allows for a secure connection between your device and the internet, providing an encrypted tunnel to protect your data as it travels from one place to another.
All web activity is routed through the VPN server using powerful encryption algorithms that ensure intercepted data cannot be decoded or viewed without the correct private key. This hides online activity and encrypts any outbound connections to keep proof of what you are doing from falling into dangerous hands.
With servers located across multiple countries around the world, top-tier companies such as NordVPN offer unrivalled network speeds accompanied with military grade encryption protocols designed to safeguard all transmitted traffic against monitoring or snooping via cybercriminals.
Masking IP Addresses
VPNs are critically important in protecting online privacy and security, as they mask a user's real IP address by replacing it with that of the VPN server. This masks users' information including their Identity, Location, Browser type and OS from websites they visit.
By doing this, VPNs hide users' identities online to protect against potential hacking or other surveillance activities attempting to tap into private data. Furthermore, by masking IP addresses to prevent tracking and geo-location targeting on personalized ads or content filters for censorship purposes based on geographical areas.
Alongside encrypting data traffic using 256-bit AES cryptography protocols such as OpenVPN or IKEv2 encryption standards which ensure that no one can overhear personal conversations between their devices over shared Wi-Fi networks without first getting past the complex security systems employed by most reputable commercial VPN services today.
Bypassing Censorship and Geographic Restrictions
VPNs are effective tools for bypassing censorship and accessing geographically restricted content. They enable users to connect to servers in different locations, allowing them to access blocked content and enjoy a more open internet experience.
Popular among consumers for obfuscating their real location and avoiding restrictions of any kind, a VPN service allows you to mask your IP address, improving online privacy as well as unblocking censored websites or services from around the world at high speeds.
Not only this but they also allow safe passage through country-specific firewalls which blackout certain websites from being accessible outside of their borders - perfect for members of the international community who want access to certain titles such as streaming services that are inaccessible due to geo-restrictions or government sponsored censorship networks.
Real-World Examples of VPNs Protecting Online Security
In recent years, cyber threats have become a major problem around the world. People's personal data and online communication is often at risk of being stolen or manipulated through malicious attacks and data breaches.
This has affected individuals, organisations, businesses, and many others in a serious way– making it more important than ever to ensure that your online security is up-to-date with secure measures like Virtual Private Network (VPN).
A VPN can provide added protection by encrypting web traffic between two or more computers– creating an encrypted tunnel for any type of internet activity to help better protect people's privacy.
Take for example the case of Dharun Ravi – who was charged with invading the privacy of his college roommate Tyler Clementi in 2010 when he illegally recorded him without his knowledge via video hardware found in their dorm room.
Back then, there were no safety protocols in place as compared to now which allows students living on university campuses access to safe connections such as University VPN networks which encrypts internet traffic passed over its network using transport encryption layer technology – thus preventing snoopers from accessing students' sensitive information travelling across campus networks while also allowing them unblocked access beyond what universities might typically offer on a restricted basis.
Similarly for business owners who use multiple devices connected remotely from offices around the world – utilizing a corporate VPN service provides an additional layer of encryption to keep corporate data secured regardless if it is relayed internally among those remote users or communicated externally across public networks connecting back into company systems again under strict authentication requirements before granting access even further.
Such multi tier security measures helps organizations control unauthorized intrusion into their digital estates keeping their intellectual property securely distributed amongst its proprietary set - warding off potential hackers attempts while maintaining productivity levels operationally efficient at all times!
Conclusion and Final Recommendations
With the increase in cybercrimes, there's a growing need for online security and privacy. This is where VPN services come in handy. By encrypting internet traffic and masking IP addresses, Virtual Private Networks (VPNs) provide enhanced protection against data breaches and malicious actors.
The top 10 VPN services of 2023 offer advanced security measures allowing users to protect their digital footprint from prying eyes while accessing restricted content from any part of the world with reliable connection speed.
NordVPN, Proton VPN, Surfshark VPN, TunnelBear VPN, CyberGhost VPN, ExpressVPN, Private Internet Access (PIA), IVPN, Mullvad VPN and Mozilla VPN are some of the best secure options available right now for ultimate online security along with affordable pricing plans – starting as low as just over $2/month in some cases.
As far as user reviews go NordVPN takes an edge when it comes to safeguarding one's privacy whereas Surfshark provides robust protection against malware and hackers thus making it ideal for overall online safety needs.
Private Internet Access (PIA) is recommended among the top 10 VPNS specifically for Windows users due its support system across major operating systems like iOS Mac or Android that makes it easily accessible at all times.
For those seeking premium high-end security solutions considering NordVPN and Proton VPN regardless of budget is advisable. While those seeking more mid-ranged protocols can opt between TunnerBear VPN and CyberGhost VPN based on individual requirements; Lastly, those looking out pocket friendly yet reliable functions must try out Surfshark VPN which won't disappoint.