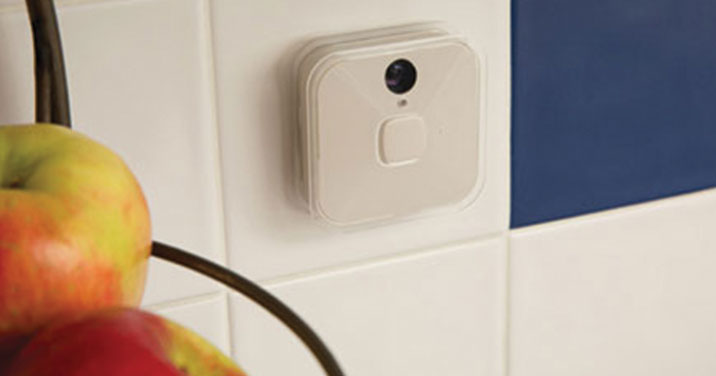 This Wireless Security Camera Wants to be a Fly on Your Wall (or Ceiling)
Homes across the world are about to get a whole lot more monitored. A wireless HD security camera complete with environmental sensing capabilities is well on its way to meeting its Kickstarter funding goal of $200,000, and will provide by far the cheapest way yet for people to have a security camera system inside their homes.
Blink as it's known, will sell for just $69 (some early backers were able to get it for as little as $49), functions on a battery that boasts more than one year of life, and uploads recorded video to the Blink cloud via wi-fi, where it can later be viewed. Without the need for wires, the tiny square unit, which is about the size of a smoke detector, is able to be placed just about anywhere; whether that means affixing it to walls, affixing it to ceilings, or simply setting it on shelf.
Along with the camera comes the Blink app, which sends alerts from the camera when motion is detected, and allows you to get a live look-in through the camera's eye. You can even check the temperature in the room with the camera's temperature sensing capability. The app also allows you to watch previously stored video . The camera also has night vision, a built-in microphone for picking up sound, and can be configured to either blink when motion is detected (purposefully alerting whoever is there to the knowledge that they are being watched) or remain a stealthy watcher.
While the camera is wireless, there is a module that needs to be plugged into a wall outlet and communicates with the camera over bluetooth to regulate its power usage, which allows the camera to have its exceptional battery life. There is also no local video storage option, which was another concession for battery life. Instead the video must be viewed through Blink's cloud storage. This service is free as a result, which is another boon over competitors like Dropcam, which charge fees for being able to access saved video.
While some may decry the fact that the devices could essentially be used as cheap spy cameras, allowing for remote monitoring of kids or even partners without their knowledge or consent, they will provide an affordable home security tool for those that could otherwise not afford any such system. That makes these eyes in the sky (or on the walls or shelves) a necessary and invaluable tool.