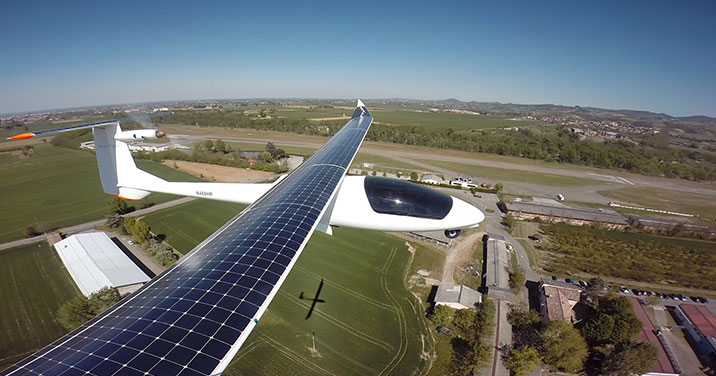 Planned Attempt at Nonstop Around the World Solar Flight
You may be intrigued to learn about serious plans underway to embark on a nonstop around the world flight using solar energy. It turns out that this history making excursion is being funded by a Russian oil tycoon by the name of Viktor Vekselberg.
Early reports from Vekselberg's Renova Group suggest that this venture will send a single pilot on a five day journey around the world using only solar power. Incredibly, the plans are for this flight to take place at an altitude of 10 miles. Note that the typical altitude for commercial aviation today is in the 7 mile range. In other words, the Renova aircraft will be about 1/3 higher than typical flight paths.
Here are a few more details about this solar aircraft. Note that the design is that of a glider style type airplane. For example, the wingspan is an incredible 120 foot in length. In addition, the Renova aircraft will also make use of so-called supercapacitors. These supercapacitors are in effect, super efficient batteries used to store solar energy as the aircraft is in flight during daylight hours.
Interestingly, the Renova solar aircraft will have solar cells strategically positioned along the top of the wing and fuselage as well as the underside. This strategic positioning means that solar energy is captured both directly from above as well as indirectly from more diffuse light sources and reflections from below.
In addition, note that the actual planned flight path is designed for optimum performance. As currently planned, the aircraft will fly at higher altitudes during the day for maximum solar exposure. Later when nightfall approaches, the aircraft will slowly descend to a somewhat lower altitude to conserve power during night flight.
You can readily understand the appeal of such a project as the Renova Solar Aircraft. Obviously the plan to send a single pilot around the world on a solar powered aircraft will attract world wide attention. This attention will most likely trigger increased interest in further innovations with solar powered projects, the supercapacitors and much more.
Not only that, the viability of both self-powered and unmanned aircraft that can fly nonstop for longer periods of time is quite appealing. Whether from business or even military applications, this is the sort of technology that could have profound implications.