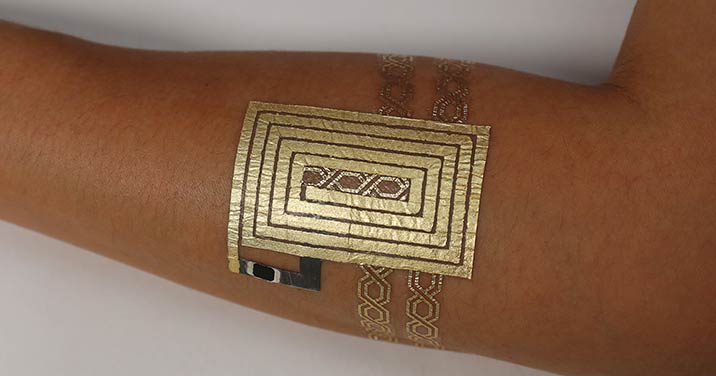 The Most Personalized Interface You Have Ever Seen
As you must have noticed, today's world of technology everywhere and everyplace has been lacking a better interface. The sort of personal interface that allows for easy interaction with smartphones and such while not disrupting tasks currently in progress.
Although it is true that Artificial Intelligence technology in the form of Apple's Siri and Google's Assist provide some relief, there is certainly room for new and improved interface technology.
That new interface technology is here and may end up changing the way you interact with technology. Pay attention to the fact that this revolutionary new interface utilizes what is referred to as an on-skin interface technology.
This new interface is constructed of gold metal leaf and is formed in such a manner as to create what looks more like the temporary tattoos favored by children. Interestingly, this interface can be configured to perform three of the most common uses of interface technology. That means the on-skin interface can sense touch input, it can display output and even engage in wireless communications.
What is even more interesting is how this technology can be utilized today in the real world. Get this: the on-skin interface can be used to control your mobile devices, display relevant information and even store information right there on the interface itself.
It gets even better. Because this on-skin interface makes use of touch input sensing capability, you can in effect utilize your skin for a trackpad. Imagine, a mere swipe across this metallic tattoo will raise or lower the volume on your smartphone, turn on the lights as you enter a room or even write text much as you are accustomed to doing on the iPad.
For the record, this on-skin interface technology is named DuoSkin. You should note that DuoSkin is the result of work done at the famed MIT Media Lab by Cindy Hsin-Liu Kao and other collaborators. Note the DuoSkin just recently won an award at 2017 South by Southwest (SXSW)Interactive Innovation Awards in the category of "Sci-Fi No Longer".
Perhaps more importantly, you may be interested to learn that DuoSkin tattoos also made a public appearance at New York Fashion Week. This showed up as a collaboration with fashion designer Chris Bevans, himself a former MIT Media Lab Director's Fellow.
Bottom line: the DuoSkin on-skin interface technology is here now and has already made a very public debut. The question now is whether or not this technology will be embraced by users or merely seen as a clever accessory?