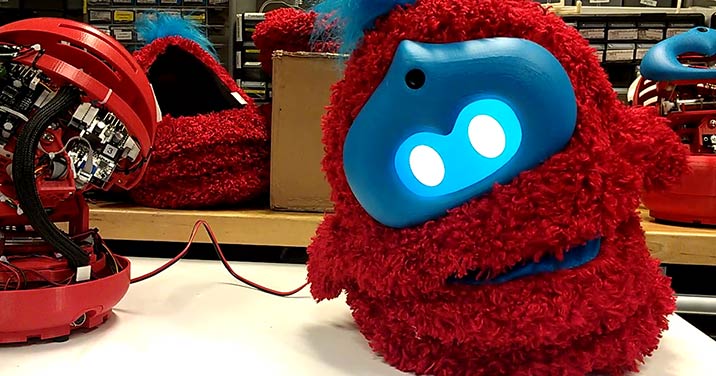 Real World Robotics Platform Aimed at Children
In case you missed the announcement with the end of the year and all of the political noise that seemingly still won't end, even in this new year, there is an innovative new robot platform you should know about. Take note of the name of this robotics platform since you will most likely start to see increased attention on this sort of thing. That name is Tega. More importantly perhaps, you will also want to understand that Tega is in fact a product of the Personal Robots Group at the famed MIT Media Lab.
For the record, you should understand that this Personal Robots Group, headed by Dr. Cynthia Breazeal along with her students endeavor to develop principles, techniques as well as technologies for personal robots. More to the point, this group conducts ongoing research in what is now referred to as socially assisstive robots. According to the Personal Robotics Group, the focus of their research is to clearly understand how robots can interact with humans to promote social and intellectual benefits, work directly with or alongside people as well as fostering increased social interaction.
The latest from the Personal Robots Group is Tega. Take note that Tega is an entirely new robotics platform specifically aimed at small children. Per the Personal Robots Group, Tega is specifically engineered for long term direct in the home interactions. What does that mean? As it is designed now, Tega is designed for in-home interactions with early stage literacy education. This Tega delivered literacy education for toddlers and such consists of a variety of teaching methods. Tega includes vocabulary and storytelling capability.
More importantly, Tega is a clear and unmistakable improvement on its predecessor technology. The difference with Tega is that this robot has been engineered from the ground up for enhanced capabilities and performance. For example, Tega is physically rugged enough to withstand the actions of small children. In addition, the design of Tega is such that appealing physical expressions are built into the platform. Moreover, the Tega platform includes a wireless camera, an on board mobile computer technology used to control its physical motions, the engaging animated eyes along with audio output.
Bottom line: Tega is but the first step in what looks to be a new use for robotics technology. The mere fact that the Tega robot platform can be used as an early childhood learning aid may have profound implications for education in the years to come.